$18.95
o

n Amazon
- Includes shamanic journeys to connect with deities and your ancestral shamans
- Provides step-by-step instructions to prepare for and conduct a seiðr ceremony
- Draws on archaeological evidence and surviving written records from Iceland
- Reveals the long tradition of female shamans in northern European shamanism

Shamanism is humanity's oldest spiritual tradition. In much of the Western world, the indigenous pre-Christian spiritual practices have been lost. Yet at the northern fringes of Europe, Christianity did not displace the original shamanic practices until the end of the Viking age. Remnants of Norse shamanic spirituality have survived in myths, folk traditions, and written records from Iceland, providing many clues about the ancient European shaman's world, especially when examined in conjunction with other shamanic cultures in northern Eurasia, such as the Sami and the tribes of Siberia.

Reconstructing the shamanic practices of the hunter-gatherers of Scandinavia, Evelyn Rysdyk explores the evolution of Norse shamanism from its earliest female roots to the pre-Christian Viking Age. She explains how to enter Yggdrasil, the World Tree, to travel to other realms and provides shamanic journeys to connect with the ancestral shamans of your family tree, including the Norse goddess Freyja, the very first shaman. She offers exercises to connect with the ancient goddesses of fate, the Norns, and introduces the overnight wilderness quest of útiseta for reconnecting with the powers of nature. She explains the key concepts of Ørlög and Wyrd—the two most powerful forces that shape human lives—and provides exercises for letting go of harmful behavior patterns and transforming simple knowledge into profound wisdom by connecting with Óðinn.

Thoroughly examining the shamanic rituals of seiðr, the oracular magic of the Nordic cultures, the author provides step-by-step instructions to prepare for and conduct a seiðr ceremony, including creating your own seiðr staff and hood, and explores the ancestral use of shamanic songs or varðlokur to accompany the ceremony. Woven throughout these exercises, Rysdyk provides archaeological evidence from Neolithic sites supporting the long tradition of venerating wise women, grandmothers, and mothers in ancient cultures and the important role of female shamans at the heart of northern European shamanism. Providing an accessible guide for anyone trying to fulfill their shamanic callings, these powerful rituals can provide personal healing and a clear path for finding our way into a harmonious relationship with the natural world.
Praise for The Norse Shaman:
" ... brilliantly written, very well researched, and filled with fascinating historical stories and a wealth of exercises to help readers fully experience the powerful ancient shamanic practices of the Norse shamans. This book is superb!"
~Sandra Ingerman, M.A., coauthor of Speaking with Nature and author of Walking in
Light: The Everyday Empowerment of Shamanic Life
"Evelyn Rysdyk has written a very important book. For anyone longing to deepen their personal transformation, enhance their shamanic practice, help our modem society restore balance and harmony with nature and its inhabitants, and bring back the sacred feminine in all aspects of their lives, I recommend this book as an integral part of their toolbox."
~Claude Poncelet, Ph.D., author of The Shaman Within
"The Norse Shaman skillfully weaves scholarly insight with an abundance of guided, hands-on experience. In an exceptionally clear and thorough voice, Evelyn Rysdyk inspires us to make the earth-honoring wisdom of the far north-and the magic of the distant past--come alive in our hearts, and in our world, today."
~Llyn Roberts, coauthor of Speaking with Nature, recipient of the Gold Nautilus Book
Award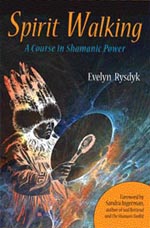 $21.95
o

n Amazon
Evelyn Rysdyk's new book, Spirit Walking provides a fresh – and ancient – way of being that helps you to release harmful emotional energies and develop enduring relationships with helpful, loving spirits. Spirit Walking is filled with practical exercises to help you to develop an effective spiritual practice of Reverent Participatory Relationship, which can help you to thrive in the face of both everyday and extraordinary life challenges, support you to experience deep feelings of connection that nurture enduring feelings of wellbeing and bring you into alignment with the perceptions that define an authentic tribal shaman.
Praise for Spirit Walking:
"What I love about listening to Evelyn Rysdyk discuss shamanism is her ability to combine ancient lore with modern science so seamlessly that you would swear you can't have one without the other. With the lyrical voice of an artist she taps into our memories of old, 'forgotten' ways and helps us understand them in terms of the latest findings in physics, psychology, and ecology. She is a wonderful guide for spirit walking between the worlds. Walk with her." —Tom Cowan, author of Fire in the Head and Yearning for the Wind
"Life is a sacred work ... How easy it is to forget that in the rush of daily life! And how wonderful it is when a book like this comes along, not only reminding us of our deepest sense of connection and purpose, but offering wise guidance to help us get back to it."
—Hillary S. Webb, author of Traveling between the Worlds: Conversations with Contemporary Shamans
Spirit Walking: A Course in Shamanic Power by Evelyn C. Rysdyk

$21.95
o

n Amazon

The Spirt Walker's Guide to Shamanic Tools: How to Make and Use Rattles, Drums, Masks, Flutes, Wands and Other Sacred Implements by Evelyn C. Rysdyk

Shamanic implements assist us in going deeper into the intangible worlds and numinous realms of the spirit, where shamans and spirit walkers believe we navigate the complex interrelationships that are continually creating our physical existence.

A Spirit Walker's Guide to Shamanic Tools is specifically designed to support those who have learned how to access the spirit realms and have the desire to add the right spiritual implements to their shamanic tool kit. It is filled with practical information on the purposes of shamanic tools as well as guidance on how to make, buy and empower them for sacred use.

Beautifully illustrated with the author's original artwork and photographs of shamans and their authentic tools, the book pays tribute to ancient shamanic culture. At the same time, it demonstrates the effectiveness of shamanic methods in maintaining one's spiritual center in modern life.

Modern Shamanic Living: New Explorations of an Ancient Pathby Evelyn C. Rysdyk

$14.95
o

n Amazon

Published by Samuel Weiser, Inc., Modern Shamanic Living: New Explorations of an Ancient Path, offers readers a unique view and provides concrete steps toward a renewed way of living, full of richness, peace, physical health and harmony for ourselves and the future of our planet.

Through shamanic journeying, meditation, movement, sound and storytelling, the author shows us how to tap the resource of our ancestral hunter/gatherer. This inner character has kept many wonderful treasures of insight and healing safe until the time was right to reclaim them. Clearly, there is no better time than now, for all of us to claim our gifts!

"Evelyn Rysdyk offers a fresh perspective and her guidance in helping us shift toward a life of meaning and joy."
–Sandra Ingerman, Author of Soul Retrieval and A Fall to Grace

"...a book with techniques that can help your life...[and] that will help you on your inner journey!"
–Mary Elizabeth Thunder, Author of Thunder's Grace